Hi guys, Ive got some exciting news!
Were going to try something new on the site, a passaround of a ESEE3 (used to be RAT Cutlery) knife...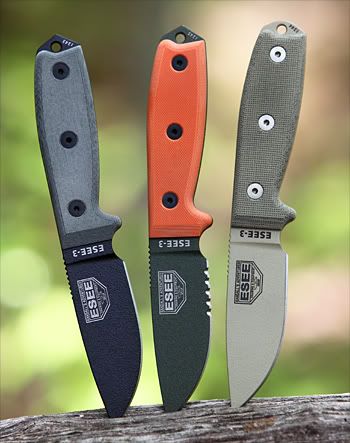 Specs:
•Overall Length: 8 5/16" (Standard Model)
•Overall Length: 8 3/16" (Modified Pommel)
•Cutting Edge length: 3 3/8"
•Overall Blade Length: 3 7/8"
•Maximum thickness: 1/8"
•Weight: 5.2 ounces (knife only)
•Weight: 9.3 ounces (knife and sheath)
•Standard Equipment: Sheath System w/ MOLLE back and boot clip
Steel: High Carbon 1095 treated to 57Rc
No Questions Asked Warranty: If you screw it up, break it, or cut it in two with a cutting torch, send it back and we'll replace it. Warranty is transferable. In other words, we warranty the knife no matter how many times it's been traded, sold or given away. We don't ask for a sales receipt, date of purchase or where you bought the knife - No fine print and no hassles.
So how it works is as follows:
Well start out with a list of 10 names, each person will receive the knife for one week and then send it on to the next member on the list. Id like for all of us to at least have the knife over one weekend as that is when we normally get to play so well adjust times accordingly as we go along.
During this week you can use the knife like you would normally use a knife of this caliber, basically test it (but not a destruction test please) Ideally wed like to see the knife go on a hunt or two and get used in the field during the dressing and skinning process and so on. You get the idea...
The only prerequisite of partaking in this passaround is that you will write a review of the knife in this thread preferrably with a pic or two, ESEE can then use this review for future marketing of the knife should they so desire. Also the postage to the next person on the list is for the bill of the current holder of the knife, this should be something with a tracking number, but Ill go to the post office and find out what will work best during the week.
RULES:
1- You must have at least 100 posts on the forum to partake in this passaround.
2- Upon entering the passaround please send me the following details: Landline if you have, work telephone number, cell number, id number and current residential adress. This is only for security purposes and the information will not be passed on to anybody, except the cops if you disappear with the knife
3- Upon entering the passaround you also agree to write a review of the knife, this should be done in english in order for the sponsors of the product to be able to follow your feedback. You also agree that the sponsors of the product may use your review if they so desire.
4- When you receive the knife please say so in this thread and when you send it on, also please post in the thread with the tracking number.
5- Try where possible to send it to the next member sharpened if you used it hard, if you cant sharpen properly though rather leave it for the next one on the list.
6- Please do not make any modifications to the knife while it is in your possesion.
7- Use it but please try not to break it, if you do however and it was under normal use. ESEE's no questions guarentee will cover it.
Should the need for additional spaces on the list arrise we will see what can be done in order to accomodate the members.
Please add your name to the list below:
1- HR81
2-
3-
4-
5-
6-
7-
8-
9-
10-
Id just like to thank our super Mods for allowing this and also the guys from ESEE USA and Anton from ESEE Knives SA for making the knife available to us.